It's that time again - we've got an upcoming release and as of today (16th May) there's some interesting elements being included or introduced as part of this bundle of joy. After a couple of the more recent releases that have felt somewhat underwhelming and some that added simple but needed functionality, there's some promising new features due to hit our instances when the release lands.
Training
New training modules are coming/have arrived and been given some prime real estate in the release notes. There's 3 new modules and an official Trailmix for someone getting started in SFMC. As with all things SFMC on trailhead, you don't get a developer environment to play with for these features and it doesn't look like there's any simulations for these just yet either, but it's a worthwhile read and some points if you go hunting for those.
I do have one bug bear with the content of the Marketing Cloud Account Optimization content for auditing your account.

Is there somewhere else besides a Data Extension that I don't know about for storing data within SFMC? If there is, I'd really like to know because if it's such a high threat - everyone should probably be working that one out!
Either way - I did the badge because of this article. There's some useful content there if you've never tried to audit or optimize an account. No new audit tools unfortunately. Will I be adding any of these modules to the standard Trailmixes that colleagues who I work with to show them around SFMC? Probably. But probably only the interactive email modules that have been released. Not because I believe Interactive Email in its current guise is going to add value to marketing comms. But, I do believe it is a powerful module to help people understand more of the art of the possible in Email Marketing.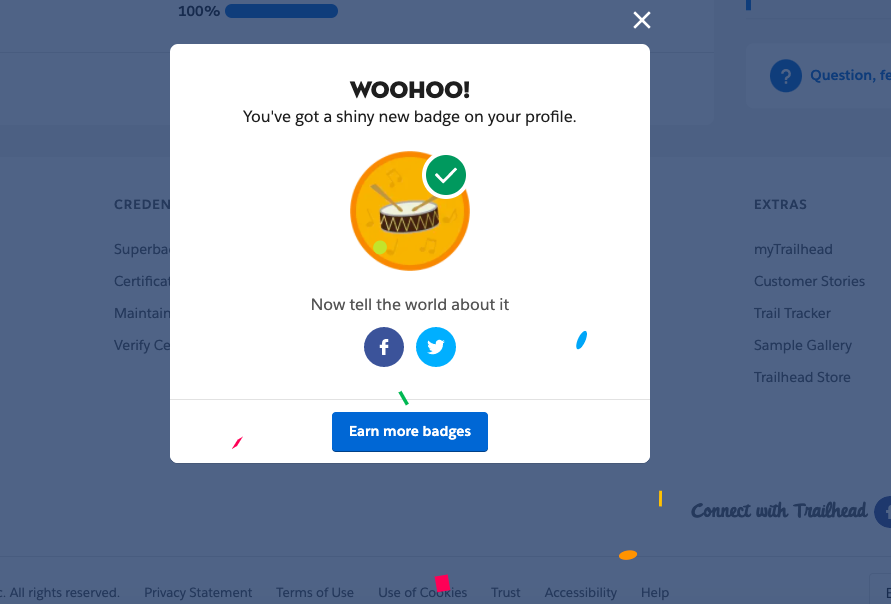 Journeys
The new Journeys section appears to be an amalgamation of all of the individual studios in one place. There's content for Web Studio, Content Builder, Push, LINE, Classic Content and basically everything that used to have it's own dedicated part of navigation. So if you're looking in the documentation at the release notes and not finding what you're hoping for - it's probably under Journeys.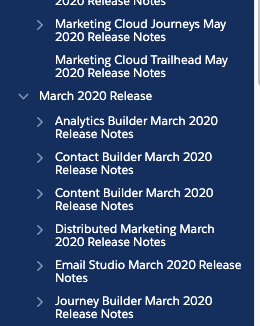 User Experience Changes
Selecting Image URLs from Content Builder no longer needs a visit to the properties view so that should save some excess clicks
Push notifications built in line within Journey Building bringing some parity between Push and other channels like Email and SMS
Push notifications now being available for Single Step Journeys (No, I don't entirely know why a single step journey is called a Journey. It's just a batch send with humorously, more steps involved) but it definitely starts to bring Push support more mainstream in SFMC. So fingers crossed the development kits and capabilities are made more accessible and simpler to use for some basic implementations. (If anyone reading this is an avid user of Mobile Push and would be interested in writing an article about it from their perspective - do reach out to us!)
The new features cover a wide spectrum of channels and levels of technical experience required, but in summary it looks like there's a lot of things happening - but I believe there is less in this release but it appears to be a lot more useful new features.
Cloud Pages
There is a new Cloud Pages experience that users will be able to trial if they currently have Cloud Pages available. You will be able to swap between the two because the underlying changes are happening to the same place. Definitely worth having an investigation, especially with no real indication about what's changing. Except for FINALLY having the ability to copy pages like you can with classic content. But even that is a footnote in the release details. Fingers crossed it's as useful as it sounds for those who have multiple similar cloud pages to deploy or a template to use.
Previewing and Testing
You can now preview Interactive Email Blocks & if you've got a lot of data in a complex file structure - you're no longer limited to 31 folders worth when trying to test an email. So a couple of useful new things to streamline some QA steps, one would hope!
Journey Builder
I really don't know what took so long, but we can finally pause a Journey rather than just have to stop and design a way of bringing people into a stopped journey in the right place or just treat them as half-complete and hope for the best. That said, it's not a permanent pause it is only for 14 days. So if there's something happening in a specific instance that means you need to suspend for longer than 14 days, it may still be better to stop and determine a longer term contact strategy. But, 14 days is a long time to be able to work that up so the pause is definitely a welcome addition!
Probably one of the two biggest elements of this release from a Marketing Cloud capabilities perspective is the new Path Optimizer in Journey Builder. A technology requirement that features heavily in a lot of marketing functions is the ability to A/B Test & Winner Pick. But, until this release, Journey Builder hasn't been able to do that - despite the Sales team trying to convince us otherwise. But, if Path Optimizer works well, this has the potential to go a long way.
Things to be conscious of when using it - Journey Builder has limitations for how many steps to include for it to be performant (150-200 is listed in the documentation). So, if you're looking to optimise at a segment level - this could lead to a lot of bloat in your journeys impacting performance. Once it's live and GA, we'll test it and hope to share some of our experience (if you use it after it goes live and would be interested in sharing your thoughts, it would be great to get some additional views on this! Let us know here)
Classic Content
It's still being retired. This has been one of the longest retirement tours ever, but it is still being retired.
Contact Cleaning
This is the second biggest announcement from my experience. Given that Contact Count is a billable volume in SFMC, it's been ludicrous that there has been no straightforward method to manage this or clean out data that has no value. There have been workarounds historically here where the general situation was "if you didn't pay for Mobile Studio when you signed up, you're outta luck". So it's definitely a step in the right direction. Hopefully the complex days of contact management go out the window and this can supersede the hacky workarounds.
Einstein
Einstein has been a common theme in the last few releases with a range of new features being added, moved around, renamed etc. but one thing has stayed consistent - Einstein won't tell you how it works. Which for some data scientists makes it a no go, not understanding how the data is being used or processed and just hoping it works isn't a part of the scientific method. However, the wording on the Send TIme Optimization release note does add some hope for some visibility _"Marketing Cloud's Einstein Send Time Optimization model card provides insight into how our artificial intelligence (AI) model works." _If Einstein will start to tell me how it works, then I think it'll be an easier recommendation.
The inclusion of the Random Sending Path for STO is a welcome addition, previously an audience would need to be split prior to a Send Time Optimization node making a journey a little clunkier. Looking forward to testing and validating this one!
Marketing Cloud Connector
Important date to keep in mind (31st July 2020) if you're using the MC Connector - make sure you update to the Connected App authentication as opposed to the legacy authentication. You've not got long before your integration will stop working if you don't do it. You'll need to block out a couple of hours to get it sorted, but it's a couple of hours you can choose rather than an integration failure that'll come bite you on the rear!
Summary
This looks to be a promising release with some great new features being included for end users, marketers and developers alike. Top 2 callouts for this set of features is the Journey Path Optimizer and the Contact Cleaning tools being made available. But I'm keen to try the new Cloud Page experience and if you've ever wondered how to audit a Marketing Cloud instance - there's a module to take a look through on Trailhead that covers that in some high level detail.
There are some elements not covered here that I'll call out specifically as references:
AMPScript AttachFile function getting some additional features including: 4 new mime-parts & an optional extra to determine if the default function is to inline or attach the file.
Deleting contacts via the API now only needs a ContactKey as opposed to a ContactID and a ContactTypeID so you can get remove contacts in one delete request instead of for each ContactTypeID
Removing content from the Content Builder CDN using the API rather than just overwriting it as a workaround
Go To Marketing Cloud links removed from the Connected App in Salesforce core platforms for security purposes. You'll now have to navigate to SFMC manually
With the sunsetting of Classic Content - The ability to A/B test from Sales & Service cloud is no longer available