As we brace ourselves for the festive season, Salesforce has dropped its latest set of release notes just a few short weeks prior to them going live in some instances. So, whether you're participating in HowToScream or wondering if another year of Scriptmas (Check out 2020, 2021 and 2022) is coming, there's some reading you may need to do beforehand to make sure you don't get caught out!
AI Features
With the broad range of AI features being added to SFMC in this release, it's worth bringing them together at the beginning. After all, Dreamforce this year was all about Data and AI so it's clearly high on the Salesforce agenda. It should also save you the hassle of trying to work out which AI features are related to which general topic as it appears that the same feature is being announced multiple times…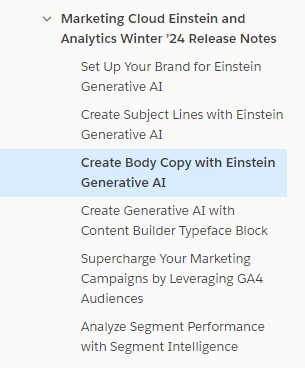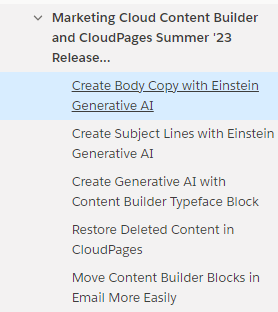 Same feature, 2 different categories (and the second one is in the Winter 24 release, just labelled incorrectly) so if you find yourself wondering why the navigation is strange in the release notes, this is possibly why. But, I digress…
Setting up a brand for Einstein Generative AI
If you head to Einstein Copy Insights, you'll be able to configure your Einstein Generative AI Personality. It'll come with 2 out of the box configured personalities or you can configure up to 10 of your own. Perhaps you'll be able to switch between them and test the outcomes to see which is resonating best with your customers and continue to test and challenge to get to your robust Einstein Brand Personality.
Creating Body Copy & Subject Line with Einstein Generative AI
Salesforce have split these up, but based on the descriptions they're very similar features and capabilities. You can jump into Content Builder or Einstein Copy Insights to generate body copy and subject lines for your emails based on your Einstein Personality set up in the previous step. This is all covered by the Einstein Trust Layer so for users who are concerned about proprietary data feeding into a LLM, this should prevent that. It'll be interesting to see how effective Einstein Generative AI is in regards to content creation en masse. Some key things I'd like to see include Einstein dynamic content selection or even feeding variations of a prompt programmatically in line within an email rather than manually copying and pasting into Dynamic Content blocks.
Creating Content using Generative AI via Typeface
This feels a little out of place in terms of a Salesforce official release note whereby there is a new AppExchange App for Typeface "_The generative AI app to supercharge personalized content creation for work" _to add a new Content Builder Block. I'm not sure we've seen many releases call out an AppExchange extension, I certainly don't recall any release notes calling out Sales Wings or DESelect. But, Typeface currently has a waitlist so if you're not already using the platform, this is unlikely to change your day to day!
Salesforce Marketing Cloud (Engagement) Adjacent Updates
There's a few updates in this release, much like the Typeface release for Content Builder that are definitely more aligned to the wider Marketing Cloud product umbrella rather than the core SFMC platform. Rather than awkwardly shoehorning them into vaguely similar topics, let's group them here. If you're a user of Marketing Cloud Personalisation/Salesforce Personalisation/Interaction Studio or whatever the name of the week is, there's some new consumption reports. If you're one of those who has bought Data Cloud for Marketing, new segment intelligence reports are available in the Segment Intelligence tab. This should help optimise segments based on common activation channels, including within SFMC, some paid media offerings and Commerce Cloud.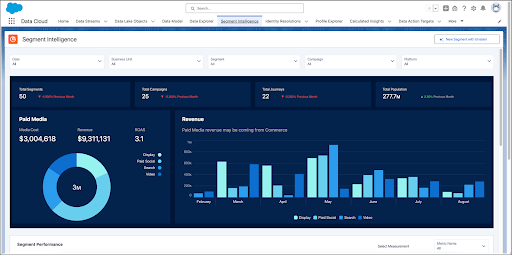 Messaging
In what should be a surprise to absolutely zero people at this point, the retirement of Classic Content (which was officially completed in Spring '23) reaches the final stage: Destroying the evidence. Classic Content is no longer officially supported, the documentation is to be removed. That said, the release note does include some Classic Content links so perhaps the saga of the retired veteran not going down without a fight continues? Just make sure if you have anything that is still being maintained on classic content that you don't try to change it without having a Content Builder asset available (Those automation Email Sends and Triggered sends with Classic Content need Content Builder assets!). Elsewhere in messaging, are you using Email Archiving? This release will help you to monitor and resolve archiving issues proactively rather than reactively. If you're looking to further capitalise on the capabilities of WhatsApp messaging, you will be able to include your favourite SFMC Memes and other (probably more relevant to your business use case) media in WhatsApp messaging.
Content Builder & Cloud Pages
A couple of what some would say are long overdue updates in Content Builder & Cloud Pages this time around. The roll out of recycle bins in SFMC continues with Cloud Pages getting a recycle bin. It ticks a few boxes where content can get deleted by accident and being able to bring it back is definitely a welcome addition. The documentation for this release doesn't specify whether it's just the content behind the Cloud Page that gets retained or whether the whole "Page" including all of the configuration in terms of the URLs etc. are retained in a recycle bin. But, if someone accidentally deletes a preference centre it would be nice to be able to just click a restore button and have everything continue working without having some kind of additional workarounds needed. Emails built within Content Builder are getting an overdue accessibility update. The introduction of a new page tree format which makes it easier to move content blocks around when the user interface for dragging and dropping can be a little tricky at times. One of the key things is that it's screen reader and keyboard accessible, game changing for those users who may be dependent upon these technologies. It's definitely long overdue for there to be official mechanisms to interact with the platform for these purposes. Looking forward to this being rolled out to Cloud Pages in the future once any quirks are identified.
Data Management
The recycle bin roll out continues with Data Extensions getting recycle bin access. It's often far too easy to delete a Data Extension. With there being no automated dependency mapping when you hit the far too inviting button that says "Hey, this Data Extension is targeted by XYZ Query and is included in a LOOKUPROWS function in these emails" unintended outcomes may abound. It's no wonder tools like Stashr are becoming an important tool for Marketing Cloud ownership. Data Extension Retention Management gets some helpful new features in this release. Starting off with a couple of fields being added to Contact Builder to highlight the current retention settings and the "Date data extensions were deleted". I would presume this is the date the rows from a Data Extension were deleted, after all if the DE were deleted it wouldn't be in the list? It's unclear how this would work with items like Row Based Retention. A specific note for the Salesforce Product Team: Please fix the known issue around DataExtension SOAP API not respecting the content of RowBasedRetention on the SOAP API as highlighted here. If you make the experience of managing retention troublesome, you'll not get people using it.
Cross Cloud
Process Builder is being retired, which will impact anyone using Distributed Marketing and Marketing Cloud Connect. There should be no impact to users beyond upgrading the Distributed Marketing package which will migrate everything to record-triggered flows or journeys that use an object get stopped/published will migrate that object. Should be relatively pain free, but keep an eye if you have anything using Process Builder. Distributed Marketing gets a couple of new features including adding attachments to emails from a set of files identified as well as being able to approve multiple emails at once rather than one at a time. Should help streamline some user flows and reduce user friction. Just make sure to be mindful of the Super Message impact if this is something you're going to roll out to a wide audience! Custom Personalisation Interactions can now be managed at a template level or at an all template level, previously it was only available at an all template level. A little bit of granularity makes a big difference, especially when it comes to personalising experiences in email.
Journeys
The Journey Builder system optimisation dashboard appears to be coming out of open beta in this release. Right now, you can see items that Salesforce have determined are inefficient for Journey Builder and you're informed how to optimise those design decisions for the platform. It's key to keep in mind that just because something is better for the Journey Builder platform, doesn't mean it's ideal for a business and their ways of working. As it stands right now, the dashboard will make recommendations but still allow journeys to continue to run. But, be cognisant that this may change. If Salesforce is able to tell you something is going to have a negative impact on back end systems, that's only a few short steps from blocking it from being activated. That said, this does include the option to Adjust System Priority to mean that users are able to prioritise some Journeys relative to others. There may be some journeys that need to happen before a certain time of day each day and contention means that sometimes it overruns. Take a look and see what you find out about your journeys! These optimisation highlights will be present within journeys as well as within the dashboard and will feature links to relevant documentation. This is a clear drive towards making users more aware and more informed about the decisioning they make and its impact on the platform. But, these are still only recommendations, you will still be able to activate journeys if needed with these less than optimal platform configurations. You'll be able to stop multiple journeys through the journeys dashboard. For times where you need to stop communications to customers for whatever reason, whether it's an internal or external event. The last thing anyone needs is to need to spend hours going through each journey one by one to stop journeys. Hopefully this rolls out to Journey Pausing as well in the future as some of the key requirements for actioning a stop on multiple journeys often align with the need to temporarily pause communications. Journey Builder Event API gets some volume increases, now allowing developers to inject up to 100 contacts per call rather than the one by one method currently available. You'll be able to easily leverage commercial and transactional messaging within a single journey which could help users reduce the number of journeys needing to be actively monitored. If you're using Salesforce Data Entry events within your Journeys and there's that request to keep the object owner included in the communications, there is now an option to introduce the Object Owner as a recipient when certain events occur on the Task, Case, CaseComment, Lead, and Opportunity objects.
Analytics
With the shuffling of release notes in this compared to the source, the analytics releases are (is) pretty small (it's padded out by Einstein and the Data Cloud items mentioned above). But, it's not necessarily small in impact. With Google sunsetting GA360 Universal Analytics back in July this year and the required migration to GA4, it's good to see this feature officially rolling out. So, if you're using GA4 you can get back to creating audiences and feeding them into the Salesforce Marketing Cloud for journey builder activities.
Developer
Much of this centres around file transfers and data imports to SFMC from external systems with changes for FTP and External data sources. This release is expected to introduce a throttle on FTP File Uploads per Session. There's no information around what the throttling is beyond that it has a very high threshold so most users won't be impacted. But, specifically it's missing details around whether this is a limit around file volume, file sizes and data volumes or whatever mechanism you may use to threshold against this. If you move a lot of data into SFMC through FTP File Uploads, this may be something to consider for you. The File Transfer API has had official documentation published. If you're using that, you can now see how Salesforce officially expects it to be used. Key thing is that now that this is documented you should find it easier to get support from Salesforce for this if things go wrong. The documentation is available now, before the release goes live so head here if you're using it and find out if you're making the most of it! Leverage Pre-signed URLs to perform imports without needing to configure file transfer locations. This should remove some of the administrative work involved in loading data to SFMC from external sources. You can provision Pre-signed URLs across most major cloud platforms, so if you're going to make use of this feature check your cloud storage platform and see how. Race Condition Error Messaging, for those who import high volumes of Subscriber data concurrently, the current experience doesn't necessarily give you the information you need to remedy the problem. By introducing these race condition errors and continuing to load the data from the import file you should get some extra insight to rectify any activities contributing to the condition.
App, Setup and Security
Package Manager gets the majority of new items included in this element of the release, some new default packages and a few new features. If you're in Health & Life Services or Financial Services, there's some default packages included now to help you get off the ground. The release also includes some new objects, including Einstein STO, Attribute Groups and WhatsApp activities, so for those who are deploying between business units or orgs this just adds a little more capability. For those who regularly deploy packages, the Package Manager interface will also allow you to filter by deployment status. Some quality of life updates which are not to be sniffed at. If you're an AWS S3 user, you're able to make use of S3 Transfer Acceleration with SFMC as part of this release. Amazon claims between a 50%-500% speed increase for large files over long distances when using this, so definitely one to explore if you're in the Amazon ecosystem for data storage. Data Extension Storage reports will be made available to child BUs as well as the parent BU. If you're a user of the Data Extension Storage reporting capabilities within SFMC this may be useful to add to your arsenal of reporting and platform management. Finally, the Marketing Cloud Admin role by default will now include all of the permissions needed for Automation Studio.
Summary
With all of the messaging from Salesforce around Generative AI and Einstein it's no wonder that the most "game changing" content of this release is in that arena. The release contains a lot of iterative changes and more roll outs of previously released capability than exciting new features. I'm not sure that documentation of an existing capability counts as a new release, albeit worthwhile pointing out that this documentation now exists is great. But, announcing documentation months after a feature has been made available makes the releases seem half complete. If, as a user when a release is made it's not possible to read how it works, what the key impacts are then it's difficult to effectively engage with new functionality and features. Users want to adopt new things. I truly hope the documentation for all of the Generative AI and Einstein capabilities in this release are up to scratch for everyone involved. Whether they're a user, admin or developer if the documentation isn't there, Einstein will get put in the pile of toys people don't understand how to use and the effort from Salesforce ends up only being part realised.