So, we asked for community feedback on resources that are used to help you to succeed, blaze your trail and become an overall more capable SFMC practitioner and the community has definitely delivered. The resources ranged in categories from websites run by Trailblazers, books, content from Third Parties and a staggering 18 unique individual Trailblazers were called out for the contributions they have made to your experience as your upskill, reskill or share skills within the Marketing Cloud.
One of the most interesting results from these were the number of unique resources that were suggested, where just one person has submitted a resource but some of them are gems that are new to us that need to be flagged. So, we'll be running through the top 10, in no particular order, highlighting some of their highlights.
Top 10 Submissions
Salesforce Stack Exchange
Whether you've got a question about using SQL, Content Builder, SSJS or pretty much anything you can think of with SFMC you've got some of the greatest minds in the community answering questions in their free time. You may have something unique to ask or you may find that there's a number of people with the same query and you've got multiple solutions to your challenge.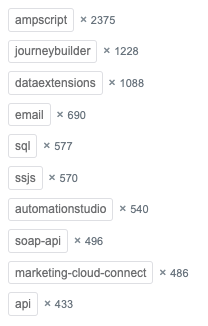 With the tag based filtering, it's quick and easy to get into the details around the questions you've got as well as a great way to start on your own quest to become a Salesforce Marketing Champion by getting stuck in. We cannot recommend SFSE enough and chances are if you type an SFMC question in your search engine of choice, SFSE will be one of the top results and start steering you down the right track to a resolution.
Sfmarketing.cloud
Created by Zuzanna Jarczynska (2020 Salesforce Marketing Champion and MVP) and featuring a wealth of resources, examples and great tools that you can get into the nitty gritty of how things work and how to make things work for you. The level of detail in the explanations of each of the examples is excellent and should definitely be a part of your regular reading. If you are ever in need of some inspiration for interesting projects or inspiration to push yourself further as a developer, bookmark sfmarketing.cloud today.
Highlight resources:
Data Views in Salesforce Marketing Cloud
Create a Cloudpages form with an image/file upload
Sprignaturemoves.com
Adam Spriggs (2020 Marketing Champion and MVP) is a name many will be familiar with, a prolific contributor to Salesforce Stack Exchange as well as many of the community webinar events. His blog covers not just SFMC but also just "interesting things" including memes, coffee and some top tier YouTube content. But, it is also one of the first places many people find when starting their journey in SFMC. The ever present requirement for a custom preference centre or for starting an automation via SSJS are 2 common tasks of SFMC developers and Adam has some great info on both of these topics.
Highlight Resources:
Ampscript.guide
We've mentioned Adam Spriggs & Eliot Harper both in this article for their independent sites and SFMC resources, but when you bring 2 great minds together you can sometimes get something great. In this instance, we've got something arguably more useful than that with the AMPscript Guide. Whilst the guide itself isn't free, the website contains ample code samples and all of the syntax details to enable you to up your AMPscript game.
Highlight Resources:
Gortonington.com
Greg "Gortonington" Gifford (2020 Marketing Champion and MVP) has set out to create a hub of interesting resources covering all things SFMC. Drawing on experiences from being client side as a jack of all trades through to today, Gortonington.com is definitely in the class of Master of SSJS with the resources that have been put together. Whether you know the difference between SOAP Objects and SQL Queries or not, there's lots of practical and useful tips and guides to get you started as you level up your SFMC skills.
Highlight Resources:
SQL and the Three Valued Logic involving NULL
Markus.codes
Markus Slabina (2020 Marketing Champion) is a Salesforce Consultant covering not just Marketing Cloud but also Cross Cloud projects and implementations. Markus.codes covers a broad range of topics with a strong focus on Journey Builder, Cross Cloud and making the most of what you have available. But it would be remiss to mention the blog without mentioning the open source Google Chrome Plugin, SFMC DevTools. Whilst this isn't an official Salesforce product, there are some nice features that may help streamline your workflow.
Highlight Resources:
deselect.io/blog
DESelect is an AppExchange partner for Salesforce Marketing Cloud with the aim of making segmentation in SFMC a simple and easy task with less technical overheads. Whilst they have a lot to say about their product, they have well thought out content around data modelling within SFMC that is definitely worth checking out. The newest video series Heroes of Marketing Cloud features in depth video interviews with Trailblazers and is not one to miss.
Highlight Resources:
What data to store and how to integrate it
Heroes of Marketing Cloud with Kaelan Moss
Ampscript.xyz
AMPscript.xyz is the home of Ivan Razine, a web designer and developer and features how-to guides, tips and tricks for a range of the core SFMC technologies. With over 40 different articles at your disposal covering CloudPages, Data Extensions, AMPscript and more it's a great source of solutions to some SFMC challenges. Even those SFMC challenges you didn't realise you may have had to face!
Highlight Resources:
Create a Search and Replace app in SFMC
The 5 ways of adding and updating Data Extensions
Mc.chat
Eliot Harper (2020 Marketing Champion and MVP) shares his tips across all aspects of SFMC in his short form video series mc.chat. Each video is accompanied by a well structured transcript to make this one of the most widely accessible video series on SFMC currently available. The topics are covered in the right amount of depth to either answer your question or to leave you with enough to go on to continue finding the solution to your specific challenge. Definitely taking a flick through the series.
Highlight Resources:
Email Address Update Behaviour
Guilda Hilaire
For those of you who haven't heard of Guilda, she is a tour de Salesforce in bringing Trailblazer initiatives to life and showcasing the absolute best that the community has to offer. She's spearheading the community driven events like Lookup(Answers) and Technical Marketers Meetings and you'll find her regularly appearing at Trailblazer Community Events. If there is a single person at Salesforce to keep an eye out for to know what's going on and when, it's Guilda.
Highlight Resources:
Unique references
The Language of SQL
Written by Larry Rockoff, The Language of SQL takes a different approach to the syntax encyclopedia you sometimes find with SQL documentation. Taking readers through the simplest of SELECT statements through to the logic behind differing types of JOIN, Rockoff brings the fundamental concepts of SQL to life. Whilst not an SFMC specific resource, many SFMC developers will need to be well versed in this language - so if you're looking to learn or improve you'd do well to grab a copy of this book.
Where to buy:
Amazon UK (No Affiliate Link)
Amazon US (No Affiliate Link)
WordToTheWise
Covering the complex world of email deliverability, WordToTheWise is a great resource for email marketers to understand how to make the most of their efforts from their email campaigns. It includes discussion pieces on SpamTraps,Delivery Improvement and Best Practices making it an incredibly valuable resource for SFMC practitioners.
Highlight Resources:
Gmail suddenly puts mail in the bulk folder
The key to improving deliverability
Api.mcexperts.ninja
One of the most fully fleshed out API resources for those who use Postman. It includes REST and SOAP API activities ready to use in a well laid out collection. The collection is community maintained, is actively updated (as recently as 28th October 2020 to include new Transactional API endpoints) and covers a huge range of standard requirements from AUTH through to creating assets in Content Builder. Pair this up with Postman today.
Conclusion
The single most inspirational conclusion that can be drawn from this is that the resources the community are looking out for are diverse in terms of content, medium and function. We have resources that focus specifically on the development side of the spectrum as well as the Email Campaign Management. There are videos, books and code repositories & we'll add the full set of resources shortly. If there's any resources that you think have been missed, whilst the survey may be closed we would still be glad to hear of them.
Thank you again for all of your contributions to HowToSFMC.com and we would definitely recommend you check out any of the resources both above and below.